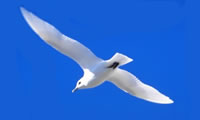 Beach restaurant, Gaivota Branca
Generalist Cuisine
The most pleasant place in Lagos to relax
If you do not know the Gaivota Branca, it's time to do it!
The Gaivota Branca, is a beach bar and restaurant in a superb location. In the middle of Lagos Bay, has a stunning sunset and the place feels a bit Jamaican.
If to escape the sun in the hot Summer or have a leisurely meal, the terrace is the place to do so.
The Cuisine is generalist, offering various meat dishes, seafood and it has a regional touch when it comes to fish. A refrigerated showcase features local delicacies like monkfish, fresh tuna and other fish of the season.
The service is informal and friendly so that you will feel comfortable.
Open every day from March till October

| | |
| --- | --- |
| There are 3 comments | Customers evaluation: 10.0 / 10 |
Contacts
Business details
Beach restaurant, Gaivota Branca

Estr. da Meia Praia
8600-315 Meia Praia
Lagos

Phone: 282 761 466
Mobile: 914 588 074
Email: restaurantegaivotabrancagmail.com
Website: www.gaivotabranca.algarve.eu.com

Customers comments
Customers reviews
Individual
- Angie
Do you have pictures of the New restaurant? I loved to visit the old place, but the New one is so beautiful, frest and clean.
Amsterdam - Netherlands @ 25/May/2014
Individual
- Angie
Good service, the food and drinks more better and the place better than before........Do I need to say more? :-)
Amsterdam - Netherlands @ 25/May/2014
Mature couple
- alan drabble
These people always say they have the best fish on the Algarve.
I think they are probably right!! Very relaxing, world class.
doncaster - uk @ 10/June/2013
visits since