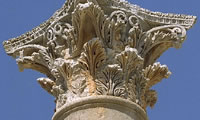 Lagos Municipal Museum
Museums and exhibitions
Culture and leisure during your Lagos visit
Founded in 1932 by initiative of its patron, Dr. José dos Santos Pimenta Formosinho.
A very interesting museum that reflects the region's importance to the region people, how it was fought over by Phoenicians, Romans, Moors, and so on.
The Lagos museum is a collection of artefacts dating from the Neolithic up to today.
Certainly a very interesting place of educational about the significance of the region.
It is a 2 hours visit and ends at St. Anthony church, that for some reason becomes the climax of this visit due to the fact that it is lined with gold.
Access conditions ( 2013 )
Normal fare – 3€
Youth Card Rate, Seniors and Groups with Guide (p / person) – 1,50€
Free entrance - children under 12 (including)
| | |
| --- | --- |
| There is no comment available. Add yours | |
Contacts
Business details
Lagos Municipal Museum

Rua General Alberto Silveira
8600 Lagos
Lagos

Phone: 282 762 301
Fax: 282 782 058
Email: museucm-lagos.pt

Customers comments
Customers reviews
visits since
More around Lagos
More Museums and exhibitions