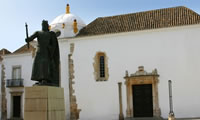 Faro Municipal Museum
Museums and exhibitions
Inaugurated in 1987
Installed in the old convent of Our Lady of the Assumption built in 1519, this convent was deactivated in 1834 after the extinction of the religious order. The museum opened to the public on 9 October 1897, with the presence of King Don Carlos and Queen Amélia.
Just the convent itself is already worth a visit
The museum is quite diverse, mostly from donations.
Currently the spoil is divided into 29 collections totaling more than 13,000 inventoried items.
We emphasize a collection of regional archeology that covers a wide chronological range (prehistory to the XVIII century) and in particular the Roman period with sculptures and mosaic; a collection of ancient painting from the centuries XVI to XIX from religious buildings in the Algarve; among many other prime collections.
In November 2005 he was awarded the Prize APOM of Museology – Triennium 2003/05, as the best Portuguese Museum, awarded by the Portuguese Association of Museology.
We strongly recommend a visit to this historical and cultural landmark of Algarve
| | |
| --- | --- |
| There is no comment available. Add yours | |
Contacts
Business details
Faro Municipal Museum

Largo D. Afonso III, 14
8000-167 Faro
Faro

Phone: 289 897 400
Fax: 289 897 419
Email: dmar.dccm-faro.pt

Customers comments
Customers reviews
20475 visits since 30/October/2012
More around Faro