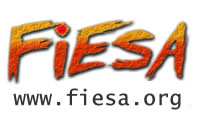 FIESA
Fairs and Festivals
International Sand Sculptures Festival
Since 2003
A magnificent Festival, open to the public for about six months, starting in mid-April until mid-October. The venue has 15.000 square meters and are used 40 000 tons of sand.
FIESA, is a mega exhibition of sand sculptures and is considered the largest festival of sand sculpture in the world due to the size of it sculptures and the venue area.
Consisting of tens of international sculptors, this festival is themed and the perfection and size of the sculptures will leave you amazed before such a scenario.
There is also a fun and creative dimension for the visitor, throughout shows and cultural activities. Also a space for carrying out activities of sand sculpture, where daily, adults, teens and children can try and show their skills of this creative form of artistic expression.
At night, the venue does not lose its charm as a careful lighting makes the place magical and mystical.
For more details about the agenda, schedules, prices, etc. please see the official site of FIESA at www.fiesa.org.
| | |
| --- | --- |
| There is (1) comment | Customers evaluation: 10.0 / 10 |
Contacts
Business details
FIESA

Areias de PÍra, Caixa 10 V
8365 - 201 PÍra
Silves

Phone: 282 317 084
Mobile: 969 459 259
Fax: 282 317 084
Email: fiesaprosandart.com
Website: www.fiesa.org

Customers comments
Customers reviews


Senior couple
- Margaret and Bill Fearnley
I have visited this attraction two years running and we are still amazed at the talent used to create this amazing spectical
Cardiff - United Kingdom @ 19/August/2013
visits since
More around Silves